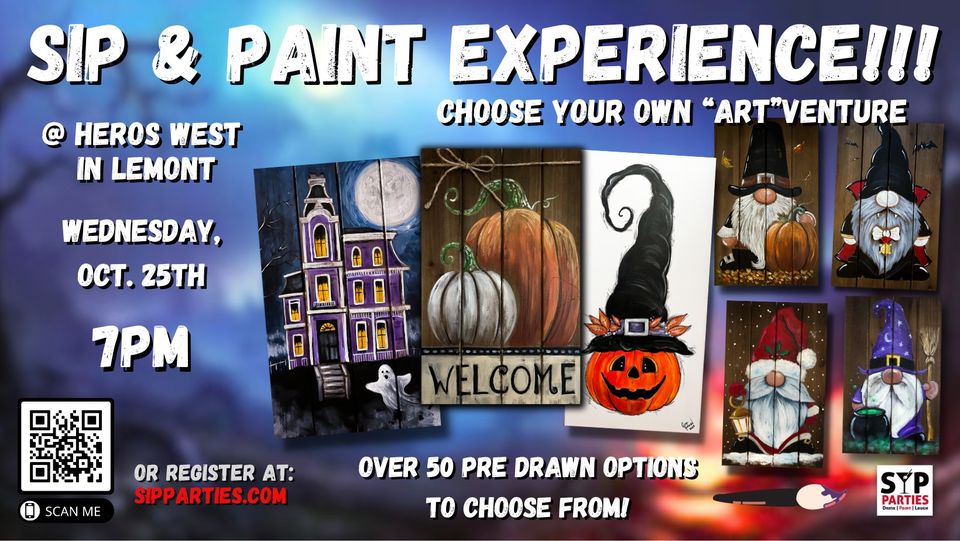 SIP & PAINT EXPERIENCE
Come have a fun evening of laughter and creativity with SIP Parties! PRE DRAWN designs with professional artist and entertainer, Cliff Harman on hand to help you out…..How can you go wrong? Grab your tickets today!
PRE-DRAWN DESIGNS! All come with instructions and demos from professional artist, Cliff Harman!
You Choose! 11″ x 17″ Wood Pallet
Join us as we bring this fun and creative activity back to Heros West in Lemont! SIP Parties is a unique twist on your typical SIP & Paint party experience! Enjoy a lively performance that brings humor and audience interaction to detailed art instruction. Whether you're looking to do a girls night out or enjoy a date night with the hubby, we are the perfect local activity. Find us at a bar or restaurant in your neighborhood!
Event info:
Price of admission incorporates all necessary art supplies. This includes your very own 11″ x 17″ wood pallet to take home at the end of the event! Feel free to arrive early to purchase an appetizer and an ice cold beer or glass of wine (food & beverages sold separately).
SIP Parties Cancellation policy:
All cancellations must be submitted by email only to
[email protected]
a minimum of 24 hours prior to the event start time. All refunds will be processed within 72 hours of the event date and credited to the account used for ticket purchases.
Any cancellations within 24 hours prior to the event start time or no showing to the event will not be eligible for refund.
Ticket credits are not available.
SIP Parties is a mobile art and entertainment studio that travels from location to location. Lighting, noise and seating may vary based on the venue. Seating is selected by the participants on a first come first serve basis, so please arrive promptly to ensure best seating options. Participant's discretion is advised.
Pallets are all outlined in advance. This is not in any way a guarantee of perfection, but a guarantee of a good time. So show up with a can do attitude and be ready for some fun!
Ticket Link: Click Here